I just finished to implement hatch patterns for Draft objects. The implementation is inspired from what they did in sketchup:
http://sketchupdate.blogspot.com.br/201 ... ayout.html
Basically I am using the same svg hatch patterns as already in use by the Draft->Drawing tool. When applied to a Draft object, a high-resolution transparent image is generated from the svg, and applied to the object as a texture. You can then set the pattern size, which doesn't depend on the size of the object, so you can have several objects with the exact same hatching.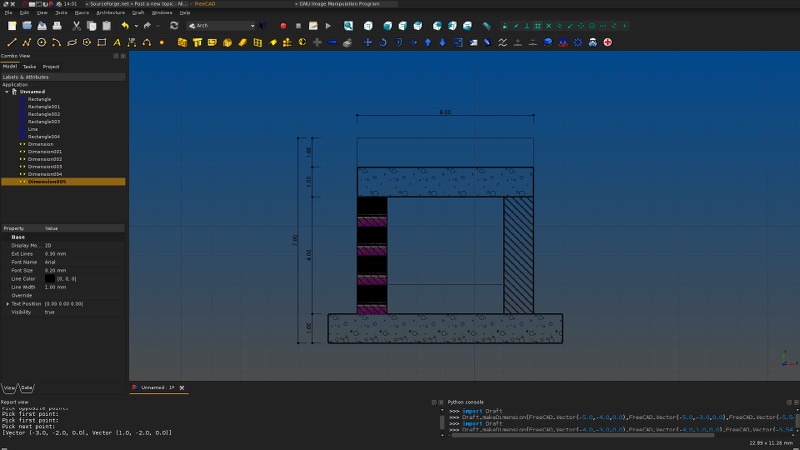 Currently the implementation is still a bit rough, basically fillable Draft objects (rectangles, closed wires, circles, ...) have two new properties in their View tab: "Texture" and "Pattern Size". In Texture you can either specify a path to an image, or a pattern name (currently available: simple, cross, concrete, line and square). If you used a pattern name, the Pattern Size property allows you to adjust their size. The pattern only appears in "Flat Lines" display mode.
In the draft preferences there is a new setting to set the resolution of the texture, that is, the size of the sample image that is generated from the svg file. The higher, the better the quality of the pattern.
There are still strange graphic bugs happening (the textures get somehow "corrupted", specially when loading several. I must still investigate. Also I plan to maybe add a separate "Textured" display mode, and find a better way to add patterns than typing the pattern name, but I'm not too keen of a drop-down list, since it can be problematic if a file is opened on a machine which has nto the same patterns available.
This is still not finished, so if you guys have more ideas, fire away!