I did a 2D sketch and import it in FreeCAD. It gived me a BezCurve. Then I extruded it and I had Extrude and Extrude001. I selected a edge and did a fillet. I don't see any error in the Python console but I have an error at the Fillet in the combo view. BRep_API: command not done. As you can see, I did the Fillet on the Extrude object. If I try it on Extrude001 object, it delete or cut completely the object.
I did a search for this command not done problem. I found many but not this situation with BezCurves.
If I do a draft over the part and extrude it, then I can do the fillet but if I tried from an extruded BezCurve, it doesn't work.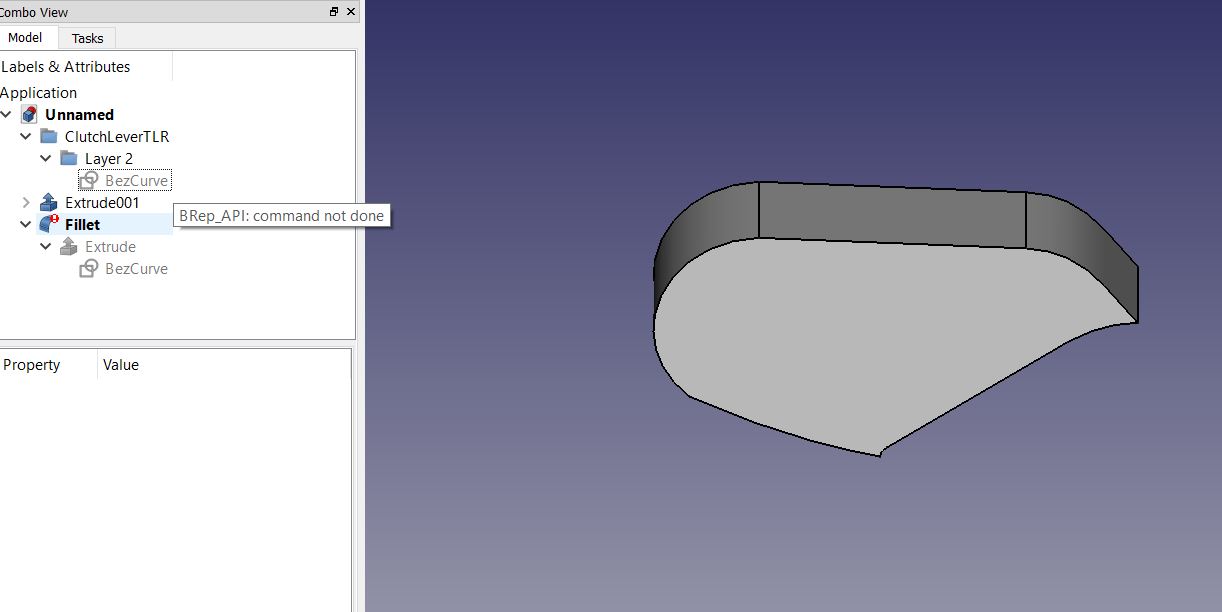 Python console:
>>> FreeCAD.ActiveDocument.addObject("Part::Fillet","Fillet")
>>> FreeCAD.ActiveDocument.Fillet.Base = FreeCAD.ActiveDocument.Extrude
>>> __fillets__ = []
>>> __fillets__.append((10,1.00,1.00))
>>> FreeCAD.ActiveDocument.Fillet.Edges = __fillets__
>>> del __fillets__
>>> FreeCADGui.ActiveDocument.Extrude.Visibility = False
>>>
>>> Gui.ActiveDocument.Fillet.LineColor=Gui.ActiveDocument.Extrude.LineColor
>>> Gui.ActiveDocument.Fillet.PointColor=Gui.ActiveDocument.Extrude.PointColor
>>> Gui.activeDocument().resetEdit()
Also, why I get 2 Extruded objects when I extrude a BezCurve? It doesn't do that if I extrude from a Drafted object (DWire)
OS: Windows 10
Word size of OS: 64-bit
Word size of FreeCAD: 64-bit
Version: 0.17.13541 (Git)
Build type: Release
Branch: releases/FreeCAD-0-17
Hash: 9948ee4f1570df9216862a79705afb367b2c6ffb
Python version: 2.7.14
Qt version: 4.8.7
Coin version: 4.0.0a
OCC version: 7.2.0
Locale: French/Canada (fr_CA)