Hi all,
I've finally managed to build a simple system to use luxrender in freecad: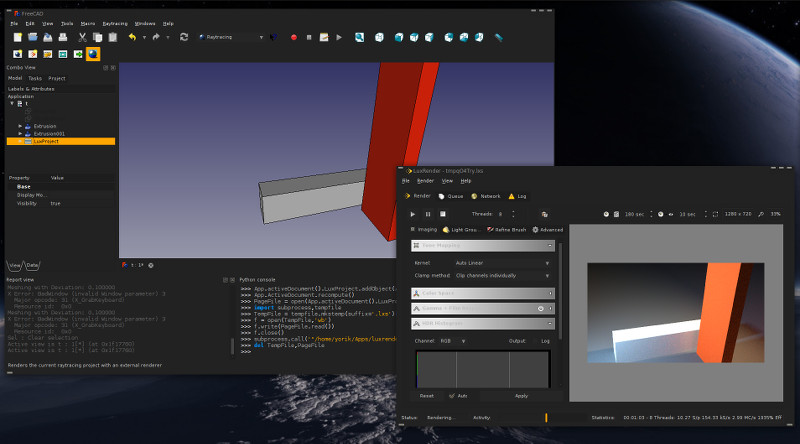 It behaves almost exactly like the povray system, you have a new toolbar button to create a new luxrender project (the "raytracing project" has been renamed to "povray project"), and the same button used to place parts in a povray project can be used to place parts in the lux project too, depending on which one is present or selected. I also added a new button that resets the camera direction of a povray or lux project to match the current view. Finally, the export button can export an .lxs (luxrender scene file) and the render button also handles lux projects and opens the luxrender interface, if its path has been configured in the preferences.
The only template available currently has an external "wall" of 10 x 10 units, so don't render objects outside that area for now... But making new templates is easy, there are just 2 lines to add to a .lxs file such as those produced by blender.
This is quite different than the approach used by mrlukeparry some time ago, but I found it interesting to try to keep things to the most simple possible implementation. In short, any feature you want, outside putting objects inside the render, has to be made in templates. Mrlukeparry's work is here for who's interested:
https://github.com/mrlukeparry/FreeCAD_ ... raytracing
His idea was more to create a full-featured render interface in freecad.
I'd be interested if someone could give it a test, it is not in master yet, but in a separate branch:
https://github.com/yorikvanhavre/FreeCAD/tree/lux
Also if some of you C++ gurus could give a quick look to check that I didn't commit any big sin, I'd appreciate:
https://github.com/yorikvanhavre/FreeCA ... x?expand=1
Hope you'll like!